For any pet owner, traveling or even looking into weekly care can be stressful. You have to plan sometimes months in advance where your precious pets are going to be. Even if you've boarded your pets in the past, it's always hard because they are an extension of your family. Luckily, one of our IMS members, Citizen Canine, can ease all your stress and worry about boarding your furry companion.
Citizen Canine was Chicago's first cage free Bed and Breakfast for dogs AND Daycare Social Club.
Owner, Jolie Frabotta, has a huge passion for animals (having four amazing dogs of her own) and it's that passion of why she strives that all of our pets should be treated like they are a part of the Citizen Canine family when they are away from their regular family.
Since beginning this unique doggy daycare in 1995, Citizen Canine has worked hard on innovating a healthy style of cage free care that has become their hallmark. There are no cages on the premises and instead offers an intimate home-like personalized experience. In addition to being cage-less, their facilities are both heated and air conditioned, and they feature Chicago's largest outside exercise areas. They are committed to high quality care and providing owners peace of mind that their dogs is being cared for in a loving, comfortable, stress free, and safe environment.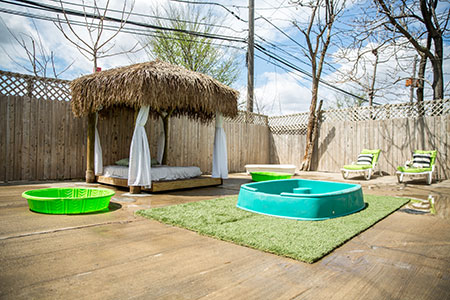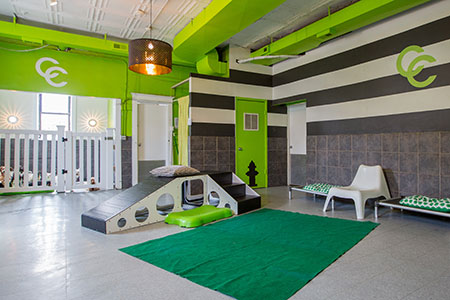 Moreover, they have perfected a humane and fun way for the pets to socialize and energize allowing the natural herd/pack instinct to occur. Citizen Canine's focus is placed on an enriched, controlled environment providing mental and physical stimulation. Their experienced, friendly personnel offer 24-hour supervision to give extra kisses & hugs. Frabotta has each staff member undergo thorough training process that is focused on raising the bar of safety in off-leash play, which includes, learning Dog Body Language, Animal Behaviors, Pet first aid and CPR. She wants her staff at their best to provide the Citizen Canine standard of care and to meet any special needs or requests.
Frabotta mentions on their website that "great service is not just about smiling faces, it's about offering a consistent process, and caring about how we treat each dog, every day. When you entrust your pet to Citizen Canine he or she will enjoy all the comforts of home."
IMS is proud to have been working with Citizen Canine since 2006. It comes to no surprise that Citizen Canine was voted Best in Chicago on Angie's List.
So, the next time you are wondering where to board your pooch, consider Citizen Canine and put your mind at ease. They are truly best in class with IMS!