At the beginning of each new month, we like to go back and see what the Top 4 Trades were from the previous month. This way, we know what our clients are looking for and how trade is helping them in their daily lives.

The Top 4 Trades from August were:
Real Estate
To be honest, it's not every day that we have real estate properties on IMS, but when we do, they are prime locations and the best part is, you are using TRADE to buy the property and not your CASH.
Tree Services
Whether it's just a few branches or a full tree removal, it can be done on trade. If you want to focus on tree removal for a minute, let's talk about the normal cash costs. The average cost to remove a tree is $700. For smaller trees (around 30 feet high) you can expect to pay $250, for trees 30-60 feet high prices range from $300 to $700, and to remove trees higher than 60 feet costs between $700 and $1,800. Now if you just need to remove one tree, you could probably cover that cash cost. But why should you have to?! Use your trade!
Jewelry
Are you looking for a special gift or anniversary present for your significant other? May we suggest our vast jewelry selection from the IMS Marketplace? The jewelry you will find on the IMS Marketplace is top of the line, beautiful, and unique. Rings, earrings, bracelets, necklaces, even pins, and brooches - we have it all. Start your shopping journey at the IMS Marketplace by clicking here!
Fork Lifts
You need many things for your business and as you know you can get most if not all of your basic business needs on trade. But did you know that you can get some bigger, more serious equipment for your business too? They're not the most common trade purchases, but if you let your broker know that you are looking for bigger equipment, like a fork lift, they can be on the look out for you.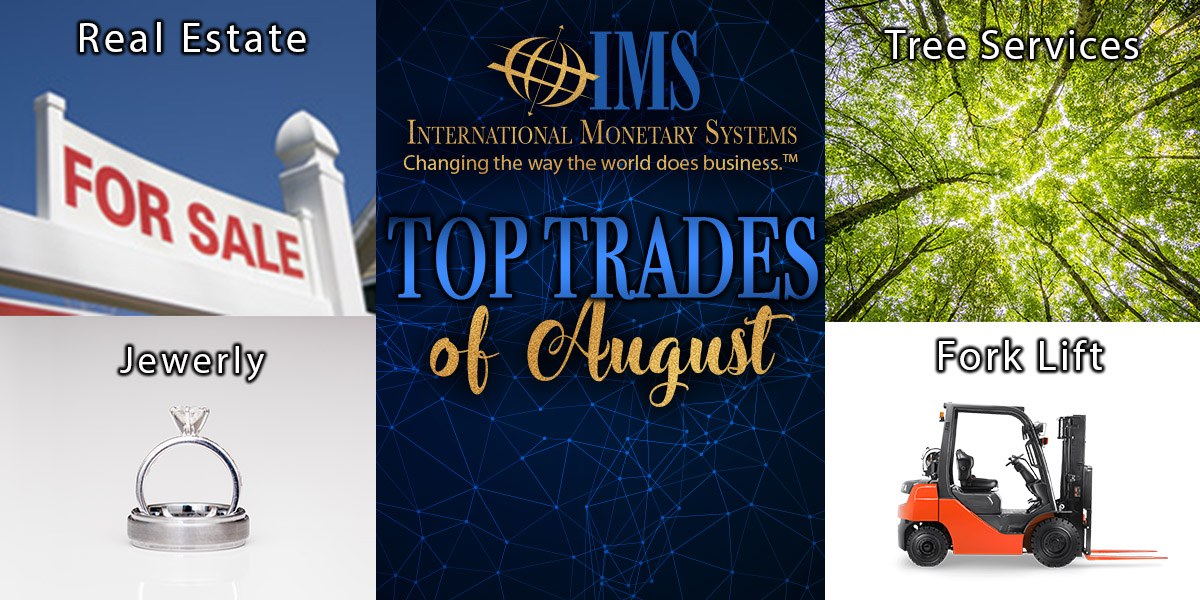 Isn't it amazing what trade can do for you?
If you are looking for something specific, don't hesitate to contact your IMS Broker today!