At the beginning of each new month, we like to go back and see what the Top 4 Trades were from the previous month. This way, we know what our clients are looking for and how trade is helping them in their daily lives.

The Top 4 Trades from May were:
Exterior Home Improvements (windows, roofing, gutters)
Windows - According to Home Advisor, the national average cost to replace windows is about $650 per window, or between $200 and $1,800. Replacing windows on a three-bedroom house runs from $3,000 to $10,000. Labor alone runs $100 to $300 each. Count the windows in your home or in your office - we bet you are seeing dollar sign after dollar sign add up as you count. Instead of using your cash, use your trade!
Roofing - Keeping a roof over your head can be pricey, especially if you need to replace your roof. The national average prices for a roof replacement can range from $260 - $700 per square depending on the roofing material, the size of the roof, and the roof type. For example, a new asphalt shingles roof for a typical 2,000 sq. ft single story ranch house can range in price from $8,500 - $16,500 fully installed.
Gutters - Let's be honest, no one really enjoys cleaning out their gutters or replacing them. That's why you should call your IMS Broker to have them help you find a service that will do it for you. Going through IMS to help with your gutters can save you AT LEAST $200 on gutter cleaning and $1,800 for gutter replacement in cash.
Attorneys
IMS can connect you to the attorneys you need, whether it's family law, bankruptcy, business, general practice, personal injury, real estate, or taxes. Don't spend your cash on expensive retainers or fees either, use your trade instead. The average cost for those who need legal representation can cost between $200 - $400 PER HOUR. That amount of money can be used to better your business. Contact your broker and let them know what kind of legal help you need.
Event Tickets
Yes, you read that right! You can get event tickets using your trade! If you are interested in concerts, theater, shows, that require tickets, call or email your broker for a list of what's available in your area. Also, let them know what you are interested in so that in the future, they can call you when tickets come in.
Cabinetry
Has your spouse wanted to remodel your kitchen but that means ripping out the cabinets? Which means you know you have to spend a good chunk of cash to replace them? Well IMS can take the sting out of that price tag. By using your trade, you could be saving anywhere from $2,000 to $24,000 cash, depending on the size of your project. Before you do more home renovations, contact IMS to see how we can help.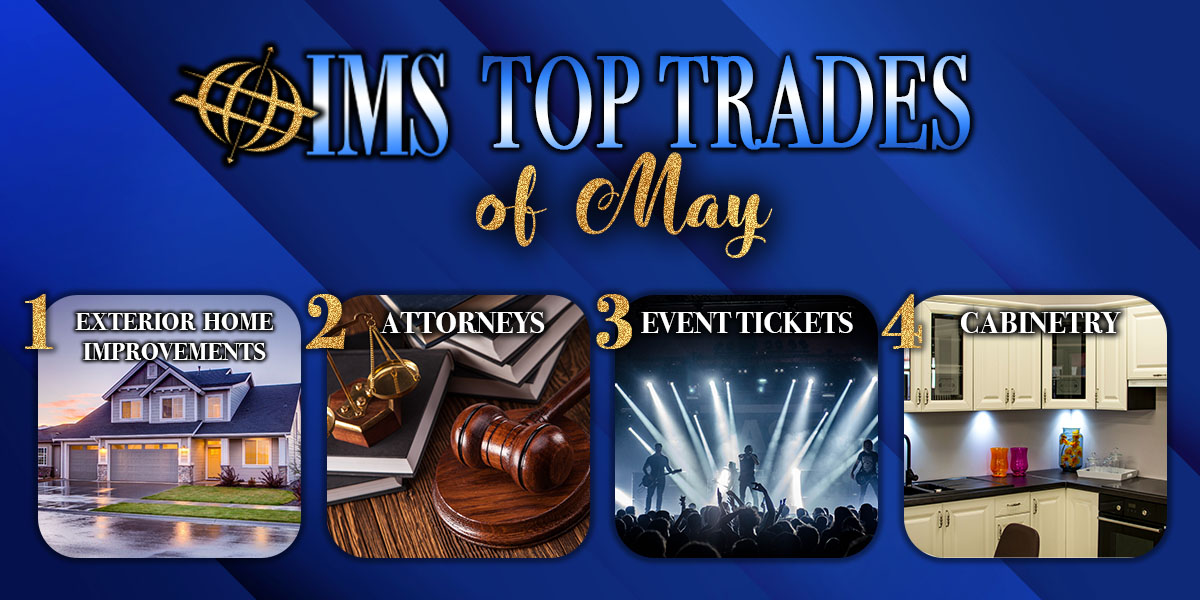 Isn't it amazing what trade can do for you?
If you are looking for something specific, don't hesitate to contact your IMS Broker today!