At the beginning of each new month, we like to go back and see what the Top 4 Trades were from the previous month. This way, we know what our clients are looking for and how trade is helping them in their daily lives.
The Top 4 Trades from October were:
Office Furniture
Does your office need a makeover? How are your office chairs and tables doing? If they have seen better days, contact your IMS Broker and we can help you give your office a fresh new look.
Billboard Advertising
As 2020 is coming to an end, have you thought about your advertising plan for 2021? Even if it seems a little uncertain yet, now is the time to plan for the new year. Consider adding billboard advertising to your plan! 71% of Americans consciously look at billboards while driving. 37% report looking at an outdoor ad each or most of the time they pass one. 58% learned about an event or restaurant they later attended. If you are interested, contact your broker!
Work Out Equipment
According to the HHS site: Less than 5% of adults participate in 30 min. of physical activity each day and recent reports project that by 2030, half of all adults in the U.S. will be obese (thats 115 million adults). The average gym membership in the US costs $58 per month, that's $696 per year. That might not sound like a big price for health. But, what if you could save your cash AND beat those statistics? Always check the IMS Marketplace or with your IMS Broker for workout equipment you can purchase on trade before spending your cash!
1957 Chevrolet 210
This isn't a common trade but every now and then, we have amazing special items like classic cars. If you are on the hunt for a specific item - such as a 1957 Chevrolet 210 - let your broker know! They can keep an eye out for when other clients are selling and can find leads to help you obtain the product.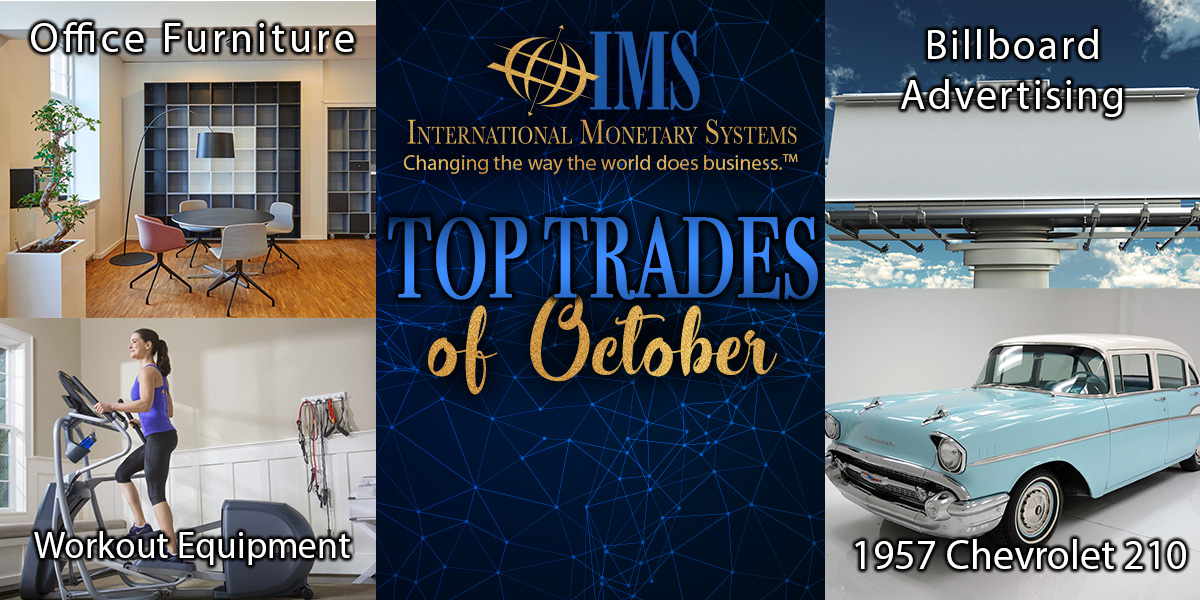 Isn't it amazing what trade can do for you?
If you are looking for something specific, don't hesitate to contact your IMS Broker today!