At the beginning of each new month, we like to go back and see what the Top 4 Trades were from the previous month. This way, we know what our clients are looking for and how trade is helping them in their daily lives.
The Top 4 Trades from September were:
Jewelry
Are you looking for a special gift or anniversary present for your significant other? May we suggest our vast jewelry selection from the IMS Marketplace? The jewelry you will find on the IMS Marketplace is top of the line, beautiful, and unique. Rings, earrings, bracelets, necklaces, even pins, and brooches - we have it all. Start your shopping journey at the IMS Marketplace by clicking here!
Roofing
Keeping a roof over your head can be pricey, especially if you need to replace your roof. The national average prices for a roof replacement can range from $260 - $700 per square depending on the roofing material you select, the size of your roof, and the roof type. For example, a new asphalt shingles roof for a typical 2,000 sq. ft single-story ranch house can range in price from $8,500 - $16,500 fully installed. IMS saved our clients some serious cash this month because they used their trade dollars for their new roofing.
Day Camp
According to the American Camp Association, the average WEEKLY rate for day camp ranges from $199 to $800, while overnight camp easily averages between $680 and $2000 a week. Luckily you don't have to spend your CASH to send your kids to day camp! Contact your broker for a list of the many day camps in our IMS network. Use your trade for day camp fun, not cash!
Billboards
If you are looking to increase your business' visibility, consider billboard advertising! In a recent study its been shown that 71% of drivers consciously look at billboard messages and 26% of that population noted the phone number written on the billboard and 28% noted the website address! Think about that. You could be bringing in 26-28% more customers with one billboard. If you are worried about the cash investment though - don't! Use your trade! Contact your broker today and ask how you can get a billboard using trade.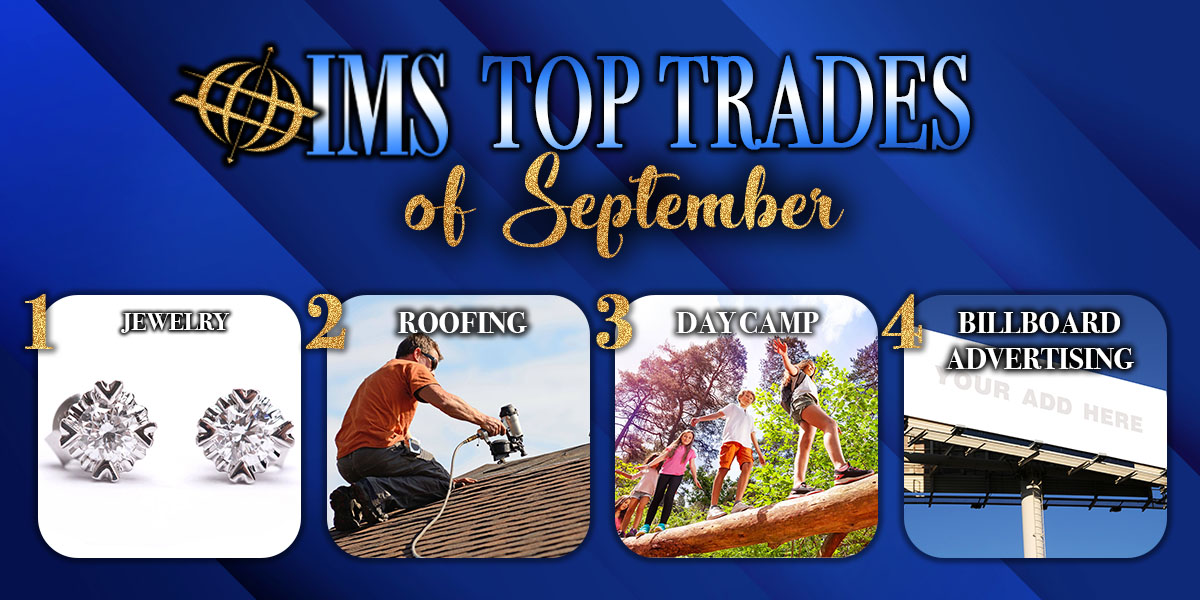 Isn't it amazing what trade can do for you?
If you are looking for something specific, don't hesitate to contact your IMS Broker today!